China dust cloud circled globe in 13 days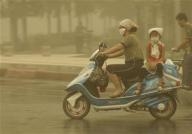 Dust clouds generated by a huge dust storm in China's Taklimakan desert in 2007 made more than one full circle around the globe in just 13 days, a Japanese study using a NASA satellite has found.
When the cloud reached the Pacific Ocean the second time, it descended and deposited some of its dust into the sea, showing how a natural phenomenon can impact the environment far away.
"Asian dust is usually deposited near the Yellow Sea, around the Japan area, while Sahara dust ends up around the Atlantic Ocean and coast of Africa," said Itsushi Uno of Kyushu University's Research Institute for Applied Mechanics.